Leadership Development
Conspiracy For Greatness Course
This program challenges the deeply-ingrained internal images and beliefs about yourself, others and how the world works, so that you can dissolve the limiting thoughts and barriers. The "Conspiracy for Greatness" course shows us just how powerful we are and how we can overcome limits we place on ourselves, our lives and our future.
In this powerful two-day course, we will examine the different areas of our lives, specifically, the areas that we have impacted with our own conspiracy for smallness and the arguments of our limitations both personally and professionally, such as: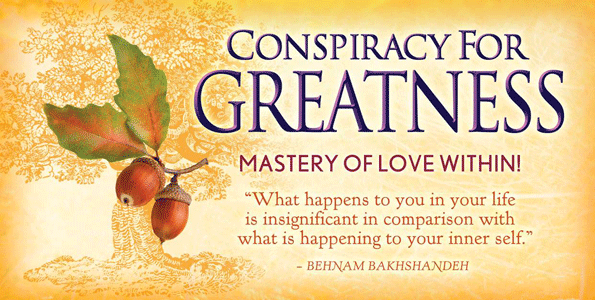 How are you getting in your own way as you become who you are?

How are you allowing your opinion to take over your relationships?

How are you judging both yourself and others?

How are you "killing off" people around you?

Are you moving through life, because you "have to," or because you "love to"?

Do you have a vision for your life or are you just dragging your past with you?
TOPICS OF FIRST DAY
We are on our own way
Setting up the journey


How Do You Play in Life?
Opinion vs. Possibility


Internal Conversation
The Chatter that ties you down!


Conspiracy for Suffering
Barriers to personal effectiveness


Own your life results
Inspiration vs. Desperation
TOPICS OF SECOND DAY
Vision and Values
The forces that make things work!


Integrity, Responsibility and Accountability
Your source of power, magic and miracle


Conspiracy for Greatness
Creating and inventing practices that will support you


Acknowledgment and Empowerment
Access to others' greatness


What does the rest of your life look like?
What is next?
Power & Effectiveness Course
Prerequisite: Completion of "Conspiracy for Greatness" course
Are you interested in enjoying a higher level of productivity?
How about having more time for yourself, your family, your friends or your career?
Would you like to know how to remain "present" in any situation and produce fulfilling results, even in the face of upsets?
We can either live from our To-Do list, or we can live from a Vision.
When we're living from our To-Do list, we're merely making it through the day and going through the motions. Not very inspiring! But there is another way to live.
We can live from our Vision! What does that mean? It means creating an action plan based on our life vision that excites us, inspires us, and calls us forward. Each one of us has a passion for life, even if we don't yet know what that looks like, or how to access it.
When we hear the word "Discipline", we often assume it means employing methods that are difficult and serious or too challenging-anything but fun! When you adopt discipline into your vision, running your life required less effort and can be lots of fun!
Do you struggle to follow your schedule? Is your time consumed by paperwork and to-do lists? Do you start projects without finishing them?
In this powerful two-day course;
• We will teach you how to develop your focus and mindset, and how to behave effectively in any challenging situation.
• We will show you how you can shift your attention from yourself, your concerns and your upsets to your values, vision and goals.
• We will work with you to invent your action plan based on your "Life Vision" and put it into practice.
• You will be liberating you from your current perception of Time Management, Discipline & Schedule so these misconceptions will no longer hold you back from achieving your personal and professional goals.
TOPICS - FIRST DAY
Reviewing "Conspiracy for Greatness"
Getting back on track.


How do you hear productivity?
Where are you not paying attention?


The Power of Belief
All realities are not invented equally.


Fulfillment Cycle
Find the missing pieces!


Keys to Success
Doing vs. Being.
TOPICS - SECOND DAY
Discipline
The necessary force for success.


Schedule
The bridge between failure & success!


Plan for producing results
How are we going to do it!


Life Plan
Making my vision a reality.


Asking 10 Effective Question
Questions that matter.
Bravehearts-Leadership Development Training
This program is designed specifically for people who are committed to learning profound leadership skills to impact their relationships and results, both personally and professionally. This can include salespeople, trainers, coaches, public speakers, managers, business owners, entrepreneurs, and leaders of all types.
You will develop yourself as the kind of person who can successfully pursue their highest goals. We introduce transformational technology and strategic planning to impact your results as a leader in all areas of your life. Learn advanced, honest, and effective communication approaches that free you up, increase your ability to relate to others, and produce unprecedented results.
How it works
During this 9- to 10-month program, you will participate in 14 days of training and development.
Additionally, you will participate in a total of 14 sessions of one-hour-long conference calls designed for follow up and to identify and implement more effective communication and training practices.
Bravehearts Benefits
Confidence in speaking in public or in large groups

Learn how to create clear value for your clients (internal and external)

Distinguish communication barriers and design approaches to transform these barriers into powerful tools to inspire others

Produce breakthrough results in your communication and leadership development

Increase efficiency and effectiveness in your business and personal life

Put your values, visions, and core beliefs to work for you (and learn how to do this for others)

Vision, Values, and material necessary to succeed on-goingly

Learn advanced tools to create and impact your own future success
This training program provides:
Powerful methods for communication

Strong leadership skills

Powerful relationship to reality

Skillful management of groups & teams

Effective development for coaching & training others

Guidance and training materials
Braveherats Fun Memories Last Forever